International Coach Federation launches Dubai Chapter.
Last night the ICF had its inaugural meeting in Dubai. The successful event was attended by 50 coaches and aspiring coaches who came along to understand the value that ICF brings to them as individual operators and to all of us as an industry.
The meeting was headed by the ICF Dubai Chapter President, Patricia Cobos, ACC, who has worked hard to make this dream into a reality and was supported by Nic Woodthorpe-Wright, PCC, Vice President, and Matt Trenchard, ACC, Vice President.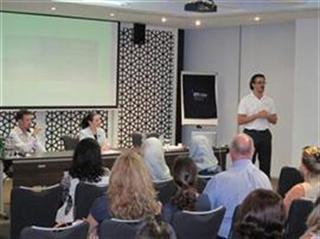 The evening included a presentation by Nic Woodthorpe-Wright, PCC on 'Developing a Successful Coaching Business' which was well received by all attendees.
Future meeting are expected to cover a range of topics that will be relevant to all coaches in the region, with the next meeting focusing on a report on how the Global ICF Conference in London went and some of the important thinking and ideas circulating in the global coaching industry in 2012.
To know more about being a part of the ICF Dubai Chapter please send an email to nic.woodthorpewright@coachfederation.ae.org